808 State
1988-1998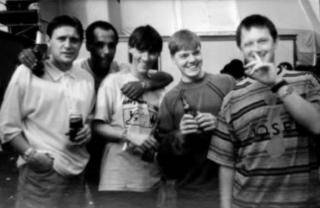 808 State. Jazz. Electro. Techno. Rock. Ambient. House. Funk. Hip Hop. Classic. Musak. Acid.


Hard to Classify

808 State inhabits a world of their own devising. Acknowledging the vitality of musical diversity and fueled by end of millenium culture they define a genre trampling fancifulness which can at times be confusing and at others very clear.
Leading the way to the Ambient House movement with Pacific 202, lush strings, funk basslines, birds and sax all in one dance worthy package, 808 have always been innovative. Consider the Belgianesque upstairs downstairs rave riff of Cubik, an instant classic. Back it with the elevator musak noises of Lift and add a twisty elfin pop diva like Bjork.
One might refer to Pacific as pure Ambient House. One might then refer to Azura as emotive Drum and Bass exploration. Then again, Bombadin seems to cut a little niche of its own and seems to have little to do with either.
Whether liked or not, the music is always State stamped and approved and criss crosses genre without accountability to any form of narrow music pedantry.


We are the Music Makers...

808 State were one of the first so called "techno" bands to perform live admirably, with the equipment and with enough attitude to come back. At a time when the popularity of electronic music was still uncertain and the mass gave it short attention time, 808 managed to play it live and twiddle knobs successfully in the Mancunian sun (such as it is).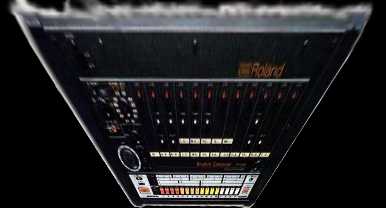 ...and We are the Dreamers of Dreams

One sunny Adelaide day my friend Sinisha arrived on my doorstep carrying a load of finely kept 12" dance vinyls culled from Central Station Records. Actually I always felt that he was a little obsessed with them as items indicating fashion status.
Among those records was Pacific, black vinyl clad in a sleeve of yellow, front depicting a rather large tubular wave. It was 1990 and I was in my first year of University so a little distraction was quite welcome!
Greetings aside we sojourned to the rumpus room out back. Spread upon the gaudy orange carpet eyeing his possessions eagerly and with that cheeky glint of eye I will always remember him for, he said,
"I want to play this really great new track to you... just got it...". And with those words he smoothed gently out the vinyl and placed it carefully on the old dusty record player my father used to own. I was hooked and amazed as soon as I heard the first bar of ambience...

We just sat there listening, listening to 808 State's first big track. Then we listened to the next mix, Pacific 303, then a flip to Pacific State Origin and Cobra Bora Shortcut. I was blown by the strings, wistful, inspiring, sentimental and energetic as they were, backed by beats, bass and those odd little bird noises.
When you hear a sound you love, you know it. It conjures memory and emotion. Combines feelings that normally seem disparate. Represents the most intimate parts of your being and invokes tears. The Pacific string sequence became my musical philosophy, my raison d'etre, my new objective in record stores. On that orange floor I experienced catharsis through four strings and an old needle. I only speak to those who understand. You know who you are.



Click to see some typical 808 heads
Mailme@
You are listening to a MIDI version of 'Lift' by 808state