808state

"Bombadin/Marathon EP - 808 State (ZTT/Tommy Boy)

With its uninspired Latin percussion and some truly annoying chanted vocals, "Bombadin" is, frankly, pretty cheezy, more tired
tribal stuff from a bunch of guys who've inflicted more than their fair share upon us.

The shoulda-been-the-A-side "Marathon" is a different story, though. The country/techno crossover is in full-effect (a la the Grid's
"Swamp Thing") -- full-bore shitkickin' at 150 BPM. Slightly goofy, but definitely the strongest 808 State single since "Plan 9".
There may be some life left in the old gal after all..." [Blasphemy!! I have no idea where this came from!]

"Hi!
>Just a quick note to wish all of yer on alt.rave a merry christmas from the
>State of 808, and a special shout to all members of STATE TO STATE!
>Don't forget kids, if you wanna write to us, we're available as follows:
>Snail mail: 808 STATE
> PO Box 808
> Hook
> Basingstoke
> RG25 1UF
> United Kingdom
>e-mail: 808state@feedback.com
>And yes, this is 808 STATE directly... NOT agents, service suppliers, record
>company or any of that other stuff. Latest news: in the last month we've
>remixed Bomb The Bass "One To One Religion" (out early '95 on Island),
>Soundgarden "Black Hole Sun" and Naomi Campbell "I Want To Live" (produced
>by Tim Simenon). We're working on our new album right now in Fon Studios, due
>for release early next year... a new organic sound from the State of 808!
>It's a rave new world.
>"Respect!"
>Graham, Andy and Darren
>808 STATE" [Taken from somewhere on Usenet]

"Fri 29 Mar 1996:
> I was told that A Guy called Gerald is the Gerald that originated with 808
> State, but went seperate ways. Is this true, and if so what is the
> history of it, It would be interesting to know.
yeah, that's the right gerald...he was involved up to the days of pacific
(quadrastate e.p. he was involved; utd. state 90 LP not sure, may have
already been gone)
they split over a royalty battle for pacific; i also understand there was
some discontent over gerald's independence/success with the release of
"voodoo ray"....i understand the court trial was for years, don't know
the final outcome however...
terrible shame too, 808 state was really a different band with gerald,
have you heard any of that stuff??
kickin' the real shit down in new orleans"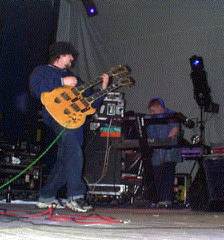 "Date: Sun, 1 Jun 1997 21:02:26 -0500
Subject: (mobility) Re: (idm) 808 state cobra bora, wow
Following was posted on the IDM mailing list...
On Fri, 30 May 1997, Mark Lakata wrote:
Ok, 808 State UTD 90 is the oldest techno cd in my collection (from 1990), but listening to Cobra Bora last night made me think how techno has become much more repetitive and boring recently, cf. Chemical Brothers, most trip-hop/acid stuff now. Are there any good artists today that don't use a single 4/4 measure sample and repeat it for 7 minutes, with a little tweaking here and there on the filters and volumn controls?
Cobra Bora actually has what you might call a "lead" synth part, that spans more than one measure, on top of that chugged bass line. I don't like adherence to pop song structure, but I think now a days the structure is so simple that it gets boring soon. The structure of 808 State on that album is pretty hard to pin down. Yes, there's a vague resemblence to the pop structure, but it's not that simple. If you take every part and map it out on graph paper, measure by measure, according to how things change, it's amazing how often things change, especially the rhythms. Whereas Moby will repeat 16 measures, 808 State repeated nothing.
IMHO, the whole UTD 90 album is still the best up-tempo techno album ever. It's a landmark. Maybe I'm missing a whole world of techno by only buying drum n bass now, and some one can turn me on to something similar to this style.
That album was an aberration, a flash in the pan, a once in a lifetime glimpse of how things might be. ex:el is a pale shade of UTD State 90.. God, what I'd give for something similar as good. I am now buying mostly drum n bass, trip hop kinda stuff -
not a lot going on in techno land - Beaumont Hannant, Black Dog, Autechre, maybe Orbital ... otherwise a lot of cheesy rehash.
Just curious..sorry to be ignorant..but what exactly is a measure?? Can somebody give me a sample of one from Moby's music?
Ryan" [from www.moby.org]


Odd 808 bits and pieces
snagged from the web.
Please mail me if you have any suggestions.
Mailme@