808STATE
Article by Oliver Swanton, 1994, origin unknown/forgotten!
Typed up by Sid Chip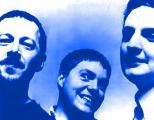 Take a look at the 808 State discography and what do you see? There's a musical career that spans six years. One which has seen fifteen singles released off seven albums. A diverse career that maps the change of a UK dance scene and the effects of that scene on a bunch of lads from Manchester.
They were born of the acid house vibe, but were shrewd enough to move on to pastures green before its somewhat premature death. There can be no doubt that they were the real founders of the 1989 Hacienda/Manchester media frenzy, but before that became stale they again moved on, this time to produce a form of music we all now love to pigeon-hole as techno and ambient. They then decided to bugger off on tour around the world taking a distinctly British scene with them only to come back to find that not all their ground breaking work had been done entirely in vain.
"We're a band with a pretty low boredom threshold", says Graham. "We're only six years into it, so you can expect a hell of a lot more from us yet."
808's recent smash, 'Bombadin', marks their return to the UK dance scene. It comes from their seventh album [Steve: ummm which album was that?] , due out later this year. "One of the things that connects all three of us is that we love the romance and texture in good music", says Darren. "This new album is our best yet because it is so fucking sexy. It's so warm."
"I think that we have finally come to terms with the technology. There's always a lot of argument about whether there is any spirit to it. This new album will confirm that it has", says Graham.
"One of us will come with an idea for a tune. We'll slap it into the computer and then we'll 808ize it - fuck it up big style, make sure it doesn't become just another boring dance tune. We'll put maybe as many as five ideas into just one tune, your average band might just put two."
Some of the technology they've come to terms with is the Internet, the global information computer system. At a time when 'Internet' is the buzz word on everyone's lips, State To State, the band's imaginatively titled Internet/Email link-up allows them to relay messages and all other kinds of information direct to the homes of all their followers.
"It's to tie in the boffins really - the kids who can really see into the future, the kids who are investing in the future with technology", Darren enthuses. "I'd say that 80% of our fan base is just as interested in the technology as they are in the music".
"Dance music is about communication. It therefore needs a communications centre and the Internet offers just that. You can find out what's happening all around the world for yourself and not through some glossy magazine. It comes right into your bedroom straight from the horses mouth".
However, if you're not one of the 34 million users already hooked up to the Internet, all is not lost. They'll be a quarterly magazine, written by 808, and a free album CD of unreleased material (album number eight for those counting).
"We've always made the effort to transcend any genre, even when we started out in the acid house era. Ever since then we've never felt happy about fitting into a slot", explains Graham. "Bands like the Prodigy say, 'we've grown up and we now want to be taken seriously', but surely a band wants that from the word go. People seem to find us very confusing, but the diversity is important to us". "Our diversity has also hindered us", interrupts Darren. "Our major label finds us so difficult to sell. We've survived the last six years by dodging the issue and the scene has supported us by putting us in the charts time and time again. 808 State was originally about collaborating amongst friends and messing around with technology. It's survived financially, which is something a lot of other dance bands failed to recognise as important. There are some really good bands from 1988 that should have survived, but didn't. The main reason they didn't is because they failed to recognise the changes within the scene".
Part of the reason why 808 State have enjoyed a long run of success is down to some very varied, but well established collaborations. Remix work for Primal Scream, Yellow Magic Orchestra, Quincy Jones, David Bowie, Future Sound Of London, Bjork, Frankie Goes To Hollywood, Human League, the New FAD's, The Sugarcubes…the list is as varied as it is endless.
Putting themselves into unusual positions where dance music might not be expected is something they relish. "We toured with Madness and played a no-holds barred hard dance set to some very serious SKA fans and they were loving it", recalls Darren gleefully. "Most dance bands would have bottled it, but we like the challenge. We want people to see 808 State as more than a one dimensional thing".
"We used to be invited on to Top Of The Pops to play alongside the likes of Tina Turner and Phil Collins. It felt like we had reason for being there, but now the goal of it all is not simply to be weird", says Graham. "When we first started it felt like we were pushing towards the extremes of dance music, but now it almost feels like the extremes are too far away. Stretching the possibilities has become so common, people don't even put a value on it anymore".
"More things are accepted now", agrees Darren. "People don't drop dead from shock if they hear something like Future Sound Of London on Radio One. You never used to be able to shift 20,000 units of an ambient CD to tie-dye hippies".
Does this then leave them nothing to do, nothing to prove, no one to shock, no barriers to break? "No", answers Graham simply. "808 State is still about making music and music is still about stimulating the brain, making the chemicals go click and getting someone excited".
"When we make an album, we're making a worldwide album now", adds Darren. "The only barriers that seem to remain are the ones outside the UK market. People will say 'where have you been?' and it's annoying because we've toured like crazy all over the world. We've not just taken 808 State there, we've taken the scene with us as well. We've hit a lot of places where dance music was almost unknown and that's got to be good".